This is a stand-alone ebook that also serves as a supplement to Book 4 on startup. This ebook contains an instrument that helps you evaluate whether you have the necessary tradeskills to start your own business. The instrument also contains blanks for you to justify your assessment and come up with a plan for strengthening any of the tradeskills you find yourself weak in.
This ebook is available on Smashwords and, for a limited time, a coupon for 100% discount is available at
http://www.meaningfulwork.com/running-a-good-business/
. Check it out.
Running a Good Business: Self-Assessment for Tradeskill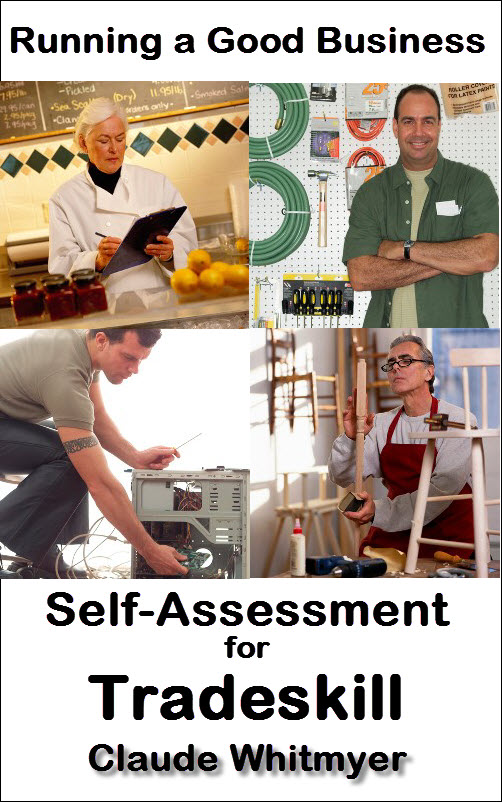 Ebook By Claude Whitmyer
Published: May. 08, 2011
Category: Non-Fiction » Business & Economics » Small business and entrepreneurship
Words: 4801 (approximate)
Language: English
"Tradeskill" defined and self-assessment instrument provided. This ebook can be used stand-alone or in conjunction with Running a Good Business, Book 4: Start-Up and Legal Matters.
A stand-alone self-assessment instrument for would be entrepreneurs or existing business owners who would like to determine if they have tradeskill and make a plan to strengthen the tradeskills that are weaker than you'd like them to be.
Table of Contents
--
-What is Tradeskill?
-Do You Have Tradeskill?
-What If You Don't Have Tradeskill?
-Tradeskills Self-Assessment Form
-Resources
Available Ebook reading formats:
Online Reading (HTML) View
Online Reading (JavaScript) View
Kindle (.mobi) Download
Epub (open industry format, good for Stanza reader, others) Download
PDF (good for highly formatted books, or for home printing) Download
RTF (readable on most word processors) Download
LRF (for Sony Reader) Download
Palm Doc (PDB) (for Palm reading devices) Download
Plain Text (download) (flexible, but lacks much formatting) Download
Plain Text (view) (viewable as web page)