Now it's time to get down to some of the practical considerations about Running a Good Business. This book is about basic considerations for getting started, including self-assessment regarding your own entrepreneurial strengths and weakness, whether your business idea is a good one, obligations you have to government and regulators, obligations you have to people within and outside your business and several start-up legal matters such as choosing the right business type.
This ebook is available on Smashwords and, for a limited time, a coupon for 100% discount is available at
http://www.meaningfulwork.com/running-a-good-business/
. Check it out.
Running a Good Business, Book 4: Start-Up and Legal Matters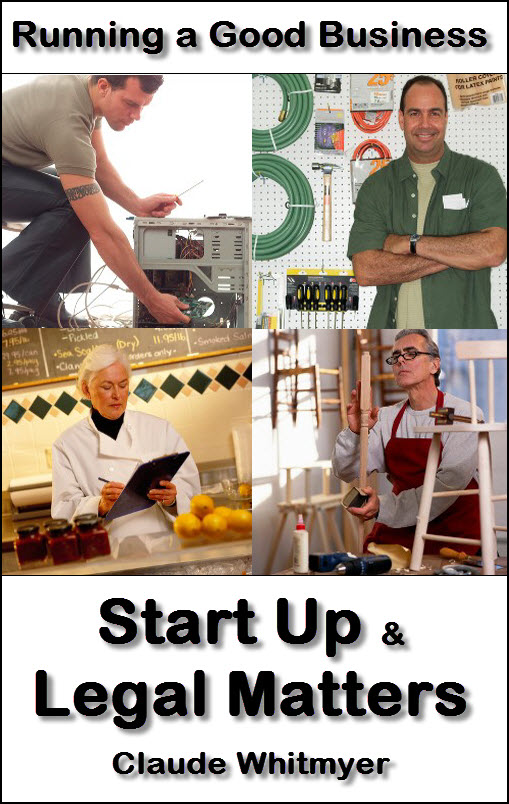 Ebook By Claude Whitmyer
Rating: Not yet rated.
Published: May. 06, 2011
Category: Non-Fiction » Business & Economics » Small business and entrepreneurship
Words: 12631 (approximate)
Language: English
Step-by-step guidance for launching your own small, micro or one-person business. For those who want to do what they love and still pay the bills. This volume focuses on self-assessment for entrepreneurship, legal form of your business and other issues that arise during the launch of a new business.
Book 4 in the series of stand-alone, hands-on guides to managing the ins and outs and ups and downs of starting and growing a small, micro or one-person business driven by personal values and offering the unique lifestyle of self-employment. This volume focuses on start-up and legal issues such as:
Table of Contents
--
Chapter 1 Setting The Stage
-Do I have what it takes to start and run my own business?
-Do I have the necessary "tradeskills?"
-Will My Business Idea Work?
-Are there customers?
Chapter 2 Getting It Going
-The Legal Form Of Your Business And Its Tax Implications.
*Choose a Legal Form for Your Business
**Sole Proprietorship
**Partnership
**Corporation (C-Corp and Subchapter S Corp)
**Limited Liability Corporation
**Relative Merits
-Legal Obligations to "The Government."
*Comply with zoning restrictions.
*Register any name by which you will do business, that isn't your own legal name.
*Obtain all necessary city and county licenses and permits.
*Register to pay local, state, and federal taxes.
-Obligations To The People You Work With.
*Open A Business Bank Account.
*Set Up A Basic Bookkeeping System (And Plan It For Making Tax Time Efficient).
*Choose The Right Location For Your Business.
*Buy Appropriate Insurance.
*Create A Business Plan.
*Hire Good People.
Chapter 3 Keeping It Going
-Market Widely.
-Set the right price.
Resources
Available Ebook reading formats:
Online Reading (HTML) ViewOnline Reading (JavaScript) View
Kindle (.mobi) Download
Epub (open industry format, good for Stanza reader, others) Download
PDF (good for highly formatted books, or for home printing) Download
RTF (readable on most word processors) Download
LRF (for Sony Reader) Download
Palm Doc (PDB) (for Palm reading devices) Download
Plain Text (download) (flexible, but lacks much formatting) Download
Plain Text (view) (viewable as web page) View