This is the second book in my Running a Good Business series of ebooks published at Smashwords.Com. This one is all about the importance of life-long learning and 5 of the 6 primary learning disciplines, including:
Personal Mastery
Mental Models
Shared Visioning
Team Learning
Systems Thinking.
This ebook is available on Smashwords and, for a limited time, a coupon for 100% discount is available at
http://www.meaningfulwork.com/running-a-good-business/
. Check it out.
Running a Good Business, Book 2: Becoming a Learning Organization.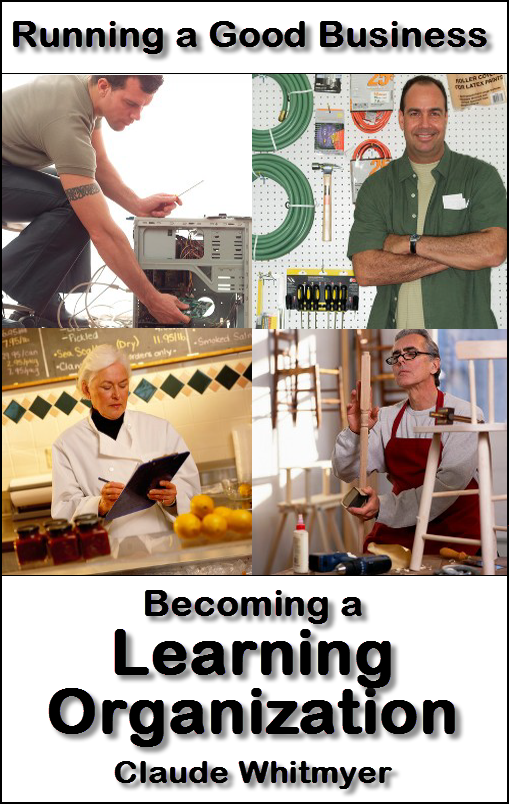 Ebook By Claude Whitmyer
Published: May. 26, 2011
Category: Non-Fiction » Business & Economics » Small business and entrepreneurship
Words: 14771 (approximate)
Language: English
Step-by-step guidance for launching your own small, micro or one-person business. For those who want to do what they love and still pay the bills. What a learning organization is and why a good business should become one.
Book 2 in the series of stand-alone, hands-on guides to managing the ins and outs and ups and downs of starting and growing a small, micro or one-person business driven by personal values and offering the unique lifestyle of self-employment. This volume focuses on organizational learning and why a Good Business needs to be a "learning organization."
Table of Contents
--
The Good Business: Becoming a Learning Organization
* I Have Seen The Future And The Future Is You
* The Paradigm Shift: A Changing World View
* The Need for Transformational Leadership
* Democracy, Stewardship, and Followership
* Organizational Learning - The Key Disciplines
- Personal Mastery
- Mental Models
- Shared Visioning
- Team Learning
- Systems Thinking
* The Heart Of Good Business
Resources
- Learning Organizations and Organizational Learning
- Other Thought Leaders Responding to the Zeitgeist
- Open Books Management
- Classics - Early Writings on the Shifting Paradigm
About the Author
Available Ebook reading formats:
Online Reading (HTML) View
Online Reading (JavaScript) View
Kindle (.mobi) Download
Epub (open industry format, good for Stanza reader, others) Download
PDF (good for highly formatted books, or for home printing) Download
RTF (readable on most word processors) Download
LRF (for Sony Reader) Download
Palm Doc (PDB) (for Palm reading devices) Download
Plain Text (download) (flexible, but lacks much formatting) Download
Plain Text (view) (viewable as web page)