In this posting, I take time off from the Running a Good Business series to let you know about a fun summary of our experience with helping organizations roll out new communications and learning technology initiatives. You can tell by the title, that our viewpoint has a different slant. This ebook is available on Smashwords too, and it's free. You don't even need a coupon. Check it out.
Herding Cats Through the Gate to Cyberspace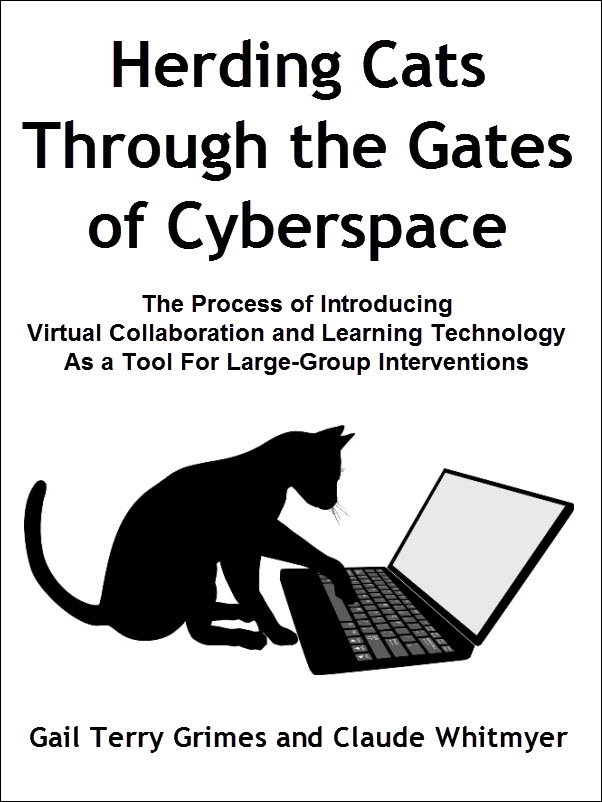 Ebook By Gail Terry Grimes and Claude Whitmyer
Published: Jun. 01, 2011
Category: Non-Fiction » Business & Economics » Management and human resources
Words: 7835 (approximate)
Language: English
The Process of Introducing Virtual Collaboration and Learning Technology as a Tool For Large-Group Interventions.
Virtual collaboration and learning (VCL) technology seems tailor made for large-group interventions. An expanding array of tools appears to hold great potential for organizational change and learning.
To name a few, example tools include:
- Web-based meetings
- Asynchronous discussions
- Data sharing
- Group document editing
- Just-in-time training
- Online surveys
- Keyword searchable document repositories
However, change consultants or organizational development professionals who anticipate a swift, easy introduction of technology may be in for a rude awakening. Without appropriate facilitation, any VCL initiative may flounder along with the intervention it was intended to support.
Table of Contents
--
Executive Summary
Four Types of Cats
- Non-Adopters
- Early Adopters
- Late Adopters
- Middle Adopters
Principles, Applications, Challenges and Proven Solutions
- Principle 1. A successful VCL initiative must have interest and meaning for the group.
- Principle 2. Once a tool is in place, leaders must actively and repeatedly draw attention to its availability, modeling its use and best practices.
- Principle 3. Virtual communications and learning technology must be useful and usable.
- Principle 4. The quality of the VCL experience may be positively influenced when participants are trained in best practices and provided with easy access to answers for frequently asked questions.
- Principle 5. The same design cycle applies to the introduction of virtual learning and communications technology as to any other planning process.
- Principle 6. The introduction of virtual communications and learning technology is a continuing, rather than a one-time, process.
Conclusions and Implications
Resources and Links
About the Authors
Available Ebook reading formats:
Online Reading (HTML) ViewOnline Reading (JavaScript) View
Kindle (.mobi) Download
Epub (open industry format, good for Stanza reader, others) Download
PDF (good for highly formatted books, or for home printing) Download
RTF (readable on most word processors) Download
LRF (for Sony Reader) Download
Palm Doc (PDB) (for Palm reading devices) Download
Plain Text (download) (flexible, but lacks much formatting) Download
Plain Text (view) (viewable as web page) View